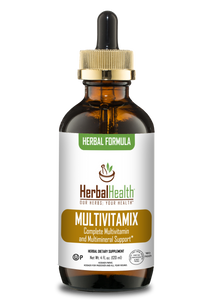 MULTIVITAMIX KOSHER FOR PASSOVER
Complete Whole Food Multivitamin and Multimineral Support*
Possesses a unique exotic blend of gentle nutritive herbs and seaweeds.
Vitamins, minerals, essential fatty acids trace minerals and amino acids play a key role in maintaining optimal health. This pleasant tasting formula contains all of the required and beneficial nutrients! And then some! Herbal vitamins and minerals such as Rose Hips, and Oatsraw. Omega 3 and EFAs from Dulse, Bladderwrack and Nori seaweeds. Immune health, optimal growth, development, mental aptitude and physical fitness is supported with Multivitamix! The ultimate whole-food multi formula!
Suggested Use:
Kids: 2 ml 2 times a day Adults: 5 ml 2 times a day
Ingredients:
*Alfalfa,*Rosehips,*Red Raspberry, *Nettle,*Peppermint,*Oatstraw, *Horsetail,*Dandelion,*Bladderwrack, *Nori,*Dulse, Vegetable Glycerin, Purified Water,*Cane Alcohol.

*Indicates organic
Allergen Statement: Contains Seaweeds (Nori, Bladderwrack, Dulse). Caution is advised for persons allergic or sensitive to fish and shellfish.

*These statements have not been evaluated by the FDA. These statements are not intended to diagnose, treat, cure or prevent any disease. 
Please consult your healthcare provider before using this and any dietary supplement.
---
We Also Recommend
---